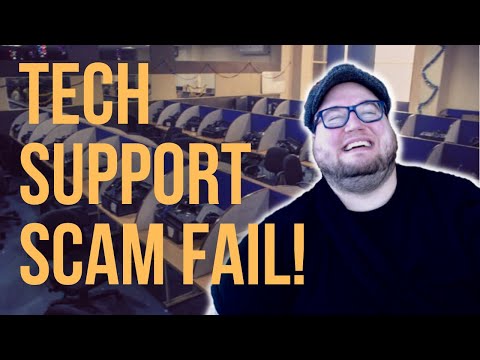 In today's video, we're going to complete a detailed review of a typical Window tech support scammer. You will typically encounter these types of fake "Trojan" pop-ups on sketchy or porn websites.
Here's a detailed breakdown of the events that transpired in the video:
00:00 Introduction
00:42 Calling tech support
02:21 Infected with "Trojan Spyware Attack."
03:33 Wants to connect to computer.
05:12 Windows + R to download AnyDesk.
09:23 Claims security breach.
09:57 Claims identity hacked.
10:40 Windows + R to download Alpemix.
13:00 Alpemix connection screen (ID + Password).
13:52 Asks about the number of users.
14:15 Asks about computer activity.
15:05 Gains access to my computer.
17:00 Checks Apps and Features.
18:00 Changes Windows Firewall.
18:37 Asks to avoid financial transactions.
19:48 Claims to be Windows support.
20:29 Has been doing this for 5 years.
21:00 Claims to be in California.
21:35 Runs command msinfo32.
22:13 Claims all services unresponsive.
23:16 Uses Wikipedia | Spyware definition.
25:23 Uses NordVPN to scam.
27:29 Runs netstat in Command Line.
30:21 Checks Chrome for password and credit card.
31:43 Opens Notepad and explains "cleaning" process.
36:20 Entering fake credit card info.
38:09 Runs command "AppWiz.CPL."
39:11 Ends the call after payment declined.
40:15 Watching virtual machine after call.
40:32 Checks if my bank is logged in.
40:45 Checks computer web camera.
41:04 Calling scammers back. Number disconnected.
41:57 Confronting the scammers on Notepad.
You click on the ad and then your screen gets taken over by the scam popup. It states your computer is infected and you need to call the tech support like. Obviously, the phone line is the scam.
In this case, I spoke with an "Alice" from tech support which is obviously an alias. I was fortunate enough to waste 2 hours of their time (very excite)! As you can see from the video, this scam is dangerous because not only will they try to fraud you out of money but they'll also sneak their way through your financial and password information.
As the scam progressed, it was clear they knew something was up because they started to review the specifications from my computer. They are used to easy targets. The most surprising aspect of this experience was how callous and manipulating this person was.
She clearly was an excellent liar and had a lot of experience scamming other people. When they learned the credit card information was fake, they ultimately disconnected their number and I wasn't able to call them back. I gave them a piece of my mind on the notepad however